ACT 2
With his devoted wife by his side, Harry Houdini returns to America, a famous, international celebrity. His illusions are more daring and breathtaking than ever. Shattered by Mama's death, however, Harry turns to clairvoyants and psychics for proof of an afterlife.
As predicted years before, Harry and Bess eventually meet Sir Arthur Conan Doyle and his spiritualist wife, Jean, who happen to be dining at a London pub with prominent theatrical agent, Mr Slater and Sergeant O'Reilly of Scotland Yard. Houdini is presented with a challenge too good to refuse – if he can escape from Scotland Yard he will receive top billing at London's finest theatres.
Harry's relentless quest to contact the spirit of his beloved Mama leaves him confused and unfulfilled as he returns to America.
Years roll by and the great Houdini is invited to deliver a speech to a young audience at McGill University. Harry agrees to meet student boxing champion, Whitehead, who is fascinated by his hero's amazing muscle control. Unprepared, Harry receives three excruciating blows to the stomach, exacerbating a previously undiagnosed bout of appendicitis.
Although in great pain, Harry Houdini is determined to perform his newest, death defying illusion – to escape from the Chinese Water Torture Cell, in Detroit's crammed Garrick Theatre.
Can the world's most famous magician execute the greatest feat of all by escaping death itself?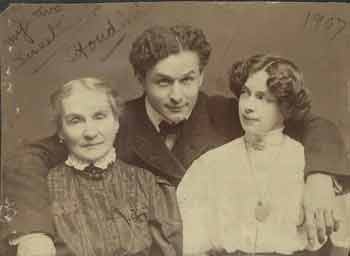 © Copyright 2011/12
Music & Lyrics - Geoff Willis
Book - David Willis
Willis Twins Entertainment
All Rights Reserved
ACT 1
On Halloween morning, the anniversary of Harry Houdini's death, in modern day New York City, a paperboy heralds the opening of The Great Houdini Exhibition. World-famous illusionist, Harry Houdini is beckoned by a gathering crowd to appear before them and fulfil his vow to one day return.
The clock winds back to the late 1800s as Harry and his mother mourn Papa's death. A loving, but overbearing Mama, places a huge responsibility on young Harry's shoulders.
Realizing his passion for magic, Harry enlists the help of his clumsy younger brother, Dash. Managing to pull off their first illusion, Metamorphosis, in a Coney Island Beer Hall, they impress a local talent agent. Harry is distracted by a young and pretty burlesque dancer, Bess. They stroll hand in hand through the fairground as recurring spirits plague Harry's psyche.
Within days, the Jewish Harry and Catholic Bess are married but it's two weeks before they pluck up the courage to tell Mama. Harry reveals to Bess the secret message engraved on the wedding ring that will be held closely to their hearts forever.
Much to Mama's dismay, the obsessed Harry Houdini pursues his destiny in search of fame and success. Obligated to take a "sacred oath", Bess and Dash show concern for their beloved Harry.
Meanwhile, on the other side of the world, famous author, Sir Arthur Conan Doyle and his psychic wife, Jean, discuss the new American illusionist. In a trance, Jean reveals to her husband that they are destined to meet the great Harry Houdini.
Gaining notoriety, Harry takes his new wife Christmas shopping in front of an excited New York crowd. Bess is thrilled when Harry asks her to try on a glorious dress once worn by Queen Victoria, but this excitement is short-lived.
The celebrated Harry Houdini performs his illusions with beautiful new assistant, Bess, to captive audiences around America. The ambitious Houdini can't resist the urge to travel abroad. A heartbroken Mama is left behind as her son becomes world-famous.
Whilst the successful Houdinis meet dignitaries, royalty and stars from around Europe, Bess is concerned for her husband, who seems distant and restless. At a lavish hotel room in Copenhagen, Bess confronts Harry who has never once told her he loves her. A knock at the door cuts short Harry's emotional response as a telegram reveals devastating news!